The Boys & Girls Club of Laguna Beach Recognized Tuttle-Click Automotive at National Philanthropy Day's 31st Anniversary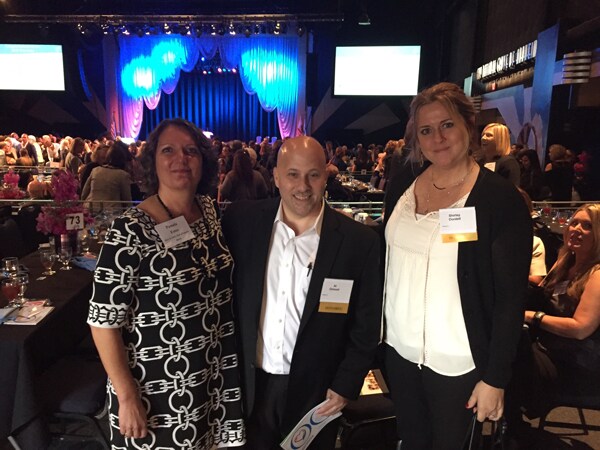 November 17th marked the anniversary of the 31st annual National Philanthropy Day. This day recognizes the great contribution philanthropy makes to our society and to honor individuals, businesses, and organizations that are active in the philanthropic community. This highly respected recognition day is coordinated and is supported on an international scale by the Association of Fundraising Professionals (AFP). This year, the Boys & Girls Club of Laguna Beach was thrilled to recognize Tuttle-Click Automotive for their tremendous support over the years with the Club. General Manager, Al Dimont and Marketing Manager, Shirley Dordell of Tuttle-Click were in attendance at this year's luncheon.

The Tuttle-Click Automotive Group has done an incredible amount of charitable work in the communities where it does business. Nonprofits, schools, and other charities benefit a great deal around the six Orange County-based dealerships operated by Tuttle-Click. Bob Tuttle and Jim Click, owners and George Saad, the Vice-President, have created a strong culture of volunteerism and philanthropy in the company. Tuttle-Click Automotive has been a huge help to the Boys & Girls Club of Laguna Beach, which is one of the primary recipients of the company's philanthropy. They have supported the Club for many years at the annual Art of Giving Gala, and have helped to double the funds raised each time. Around $500,000 is raised by the Gala each year. Also, Carrie Click has chaired the Gala in the past and currently serves on the Board of Directors at the Club. The Tuttle-Click Mazda dealership also sends employees out to volunteer every year for the Pancake Breakfast fundraiser at the Club's Bluebird Park branch. In 2015 the Club celebrated the enormous contributions of the Clicks by dedicating the snack bar of the new Lang Branch as the Click Café. Additionally, George Saad sits on the Advisory Board for the Boys & Girls Clubs of Capistrano Valley. The leadership at Tuttle-Click Automotive are primary drivers of the philanthropy and volunteer movement at the company, which touches many facets of the nonprofit world. With over 500 employees in Orange County, their philanthropic work is reaching many people who
need it. Due to leadership involvement in philanthropy, a culture of volunteerism, and financial support of community institutions and charities, Tuttle-Click Automotive is deserving of recognition at this year's National Philanthropy Day.
---
Boys & Girls Club of Laguna Beach 8th Annual Community Partner's Breakfast -
March 2016

| | |
| --- | --- |
| | The Boys & Girls Club of Laguna Beach proudly hosted their 8th annual Community Partner's Breakfast on Thursday, March 10, 2016 at Seven Degrees. Tuttle-Click was given the Corporate Partner Award, accepted by George Saad. Tuttle-Click has supported the Boys & Girls Clubs for many years with their largest fundraiser, and helped to almost double the funds raised. |
---
Orange County's Everyday Heroes Honored For Good Deeds
- January 2016
Tuttle-Click Automotive Group was proud to sponsor the amazing Everyday Heroes Event at the Montage Laguna Beach.

Everyday Heroes recognizes outstanding local individuals who have given to their communities in an unselfish way. Thank you to everybody that attended this great 1817 event and congrats to all the heroes!

To read more about this event CLICK HERE

---
17th Annual Golf Tournament nets $80,000 - September 2016

| | |
| --- | --- |
| | A field of 130 golfers enjoyed a tremendous day of golf at El Niguel Country Club raising significant funds for the Clubs. Once again, Tuttle-Click Capistrano Ford stepped up as the Title Sponsor for this annual event. The day was highlighted by Tuttle Click Ford Co-Owner Robert Tuttle offering a $20,000 matching challenge gift at the awards banquet which was quickly matched by the attendees. Congratulations to long time Board member Mike Helton for winning the Pebble Beach Raffle |
For twenty two years, the Boys & Girls Clubs of Capistrano Valley (BGCCV) has changed and saved lives, enabling young people to achieve great futures as productive, caring, responsible citizens. Today, the Club serves over 2,5
00 children
and teens and provides a wide variety of youth development programs conducted by trained, professional staff. Key programs emphasize academic success, good character and citizenship, and healthy lifestyles.
"We are very proud to sponsor this event and we feel fortunate to help make a difference to the youth in Capistrano Valley," said George Saad, vice president of Tuttle-Click Automotive Group.

"We are truly thankful. The support and dedication of all our sponsors is what makes this event such a success," said James Littlejohn, executive director of the Boys & Girls Clubs of Capistrano Valley.
---
Tuttle-Click Ford & Capistrano Ford Win Fords Prestigious Presidents' Award for 2015
The President's Award recipients exemplify commitment and resolve. They understand what it takes to attain the distinction of a leader and can consistently exceed that level. What makes this award even more significant is that Customers are the judges. Through a comprehensive survey, Customers rate Dealers on the basis of their Sales and Service experiences. Yearly, only 340 Dealerships out of more that 5,000 are awarded this high honor.
---
The Operator Challenge
- August 2015


On August 29
th
, Capistrano Ford participated in a very important fundraiser to help our local Marines that are deployed in Afghanistan, in harm's way, and protecting our country. They are constantly in need of supplies, and the family's left behind need our help and support.
"Operator Challenge"
What is the Operator Challenge?
The term "Operator" is one of the most coveted titles in the American Armed Services today, and is given only to the most experienced and battle tested of our forces, such as the Navy SEALS, Army DELTA and RANGERS and MARSOC and RECON Marines. And when you are an operator, you expect one thing - the unexpected.
An Operator needs to be able to use any tool at hand to finish his mission, and therefore trains to use multiple weapons to make sure that he can get the job done.
With this in mind, on Friday, August 28th, from 5-10PM, SCMCSG and Socks for Heroes, in partnership with Field Tech Tactical and Training in Stanton presents "The Operator Challenge." The Operator Challenge is a 5 Person Squad Relay with each individual shooting 5 different firearms in a timed event. The combined score of the team is then totaled and used to determine which squad will move towards the finals. The top eight squads will compete at the end of the event for the title of "Top Operator."
The Capo Ford Team named the "Capo Sharp shooters" went up against 40+ teams, including some of the best weapons specialist around, even a team of Navy Seals! The Capo Ford team consisted of Rich Rader, Collin Moore, Leonard Rios, Leonard Rios Jr and Lee Williamson. In our first round we managed to score a respectable 540, not bad for shooting five unfamiliar weapons. The second round we improved to a 577 which took us to the top of the civilian teams, doubling the score of many. By the end of the night, the Military team the "Jokers" scored an unbelievable score of 840 for the win, which included 10 dead centered bull's-eyes!
It was a great night, the event raised a lot of money, and it was an honor for Tuttle-Click to support such a great fundraiser to help our Men and Women fighting overseas
.
---
---